Watching a wedding party cross Lake Bryan and arrive at Paradise Cove by boat never gets old for our John Michael Exquisite Wedding and Events team.
Dressed in a navy-blue suit with a teal necktie, Michelle landed on the dock and headed up to the wedding ceremony space. Looking calm, cool, and collected, Michelle was brought to tears seeing Jennifer walk down the aisle.
With the waterfront as their backdrop, the couple, surrounded by family and friends, exchanged vows in a wedding ceremony that included a sand ceremony. The partners blended sand in blue and teal in a custom glass container with their names and wedding dates.
Following the wedding ceremony, wedding guests enjoyed cocktails at the Tiki Bar. Butler passed Hors d' Oeuvres for cocktail hour, included Boursin Stuffed Mushroom Caps, Mini Chicken Pot Pies, and Balsamic Watermelon Bites.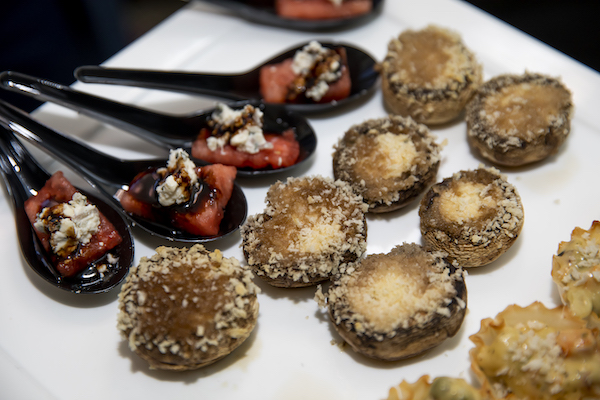 Meanwhile, the newlyweds headed off for some time together, a walk on the beach, and some photos with their wedding party.
The couple joined their wedding guests, kicking off the evening with their first dance under a shimmering crystal chandelier.
For their buffet-style reception dinner, Jennifer and Michelle chose –
Salad John Michael
~
Sliced Top Round of Beef with Mushroom Madeira Sauces
Teriyaki Chicken with Fresh Pineapple
Cheese Tortellini with Spinach Alfredo Sauce
~
Seasonal Vegetable Sautee
Garlic Mashed Potatoes
~
Freshly Baked Rolls with Butter
The reception continued with several toasts before the couple cut their beach-themed wedding cake with alternating layers of Chocolate Hazelnut and Rum Cake with Amaretto. And, who doesn't love an appearance by Kelly's Ice Cream Truck?
Congratulations, Jennifer and Michelle!
Thank you to our amazing John Michael Exquisite Weddings and Catering Preferred Partners, who were also part of Jennifer and Michelle's wedding.
Wedding Photography: Sterling Photography International
Videography: SugarPop Productions
Wedding Cake: It's Tasty Too!