Our John Michael Exquisite Weddings and Catering team could not be more proud of our fearless leader Michael Thomas!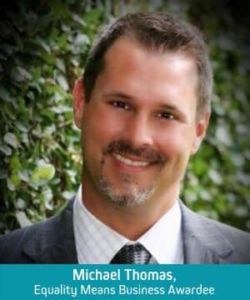 Equality Florida has just announced that Michael is the Equality Florida Greater Orlando honoree for their 2018 Equality Means Business award.
Equality Florida Greater Orlando will honor Michael, and its other honorees at this year's Gala; November 2nd at The Orlando Museum of Art for their advances in equality in the past year!
"Equality Florida consists of two organizations – Equality Florida Institute, Inc., our 501(c)(3) educational charity and Equality Florida Action, Inc., our 501(c)(4) advocacy organization. Together, these organizations form the largest civil rights organization dedicated to securing full equality for Florida's lesbian, gay, bisexual, transgender and queer (LGBTQ) community. Through education, grassroots organizing, coalition building, and lobbying, we are changing Florida so that no one suffers harassment or discrimination on the basis of their sexual orientation or gender identity."
Florida's most prestigious LGBTQ organization selected Michael for his work as a long time community leader who was a founder of MBA – Orlando's LGBTQ Chamber of Commerce.
Through his businesses, Michael supports causes that promote equality by donating tens of thousands of dollars of services annually.
Our team is so proud of Michael and his dedication to equality here in central Florida. Inclusion, diversity, and equality are a way of life for our entire team.
Offering catering and wedding planning to a widely diverse Orlando community and working with same-sex couples to create the day of their dreams, has personally touched all of our John Michael Exquisite Weddings and Catering team members.
Congratulations Michael, this honor is well deserved!
We invite you to find out more about Equality Florida and MBA, Orlando's LGBTQ Chamber of Commerce and to support these two worthwhile LGBTQ organizations in central Florida.